Half term and Halloween will certainly be different this October but that doesn't mean it can't still be fun and exciting for the little ones.
To help make this autumn half term spooktacular we've put together 5 simple and inexpensive craft ideas that you can do with your little ones to keep them entertained.
Pro tip: if you are having virtual parties this year, these craft projects will make the perfect background for your videos!
Loo-dicrously cute monsters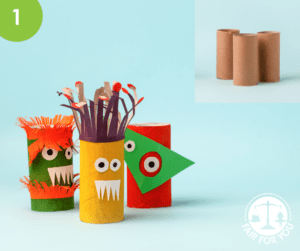 Don't throw away the cardboard tubes inside your toiler rolls. Use glue to cover them with coloured paper, then use some paper shapes to add on spiky teeth and funky hair or simply draw them straight on with a felt tip pen. Pop on some googly eyes and your monsters are ready for some Halloween fun!
Tube mummies 
Super fast! Simply wrap some gauze around a cardboard tube and finish with a pair of googly eyes. Add your creation to the rest of your monster collection for a mummi-ficent virtual backdrop!
Friendly felt pumpkins 
Stencil a pumpkin shape onto an orange felt sheet. Cut out and use as a template to create another pumpkin shape. Stencil out a stalk shape onto a bit of green felt and cut out. Sew the pieces together, making sure the stalk is between the two pumpkin shapes, using coloured thread. If you're not a sewer then never fear, you can always cheat with a bit of fabric glue! Add on a big smile and eyes using a black felt tip or fabric pen. Repeat this process until you have a whole patch of pumpkins. Finally, either string or peg each one onto some twine and hang around the house. Pro tip: make your pumpkin a bit plumper by adding some crumpled paper or leftover felt before sewing/glueing together.
Creepy critters
Great for older children. To make these little guys, grab some black felt or construction paper and trace on a bat or spider silhouette. Cut out your first shape, then use as a template to make a few more copies. Glue on some cute googly eyes to complete them. Hang some string or twine on your mantelpiece and use mini pegs to attach your critters. For bonus points add in some ghosts for a truly ghoulish ensemble.
Pro tip: for furry spider legs glue on some small pieces of fuzzy pipe cleaner.
Fran-can-stein monsters
Perfect for the whole family, these monsters are really fun to create and make useful storage containers! Using either acrylic or chalk paint coat the surface of a clean dry jar or can evenly. Glue on some hair using felt or colour paper. Draw on a mouth and other features with a black felt tip pen. Pop on some googly eyes and your monster is complete.
Pro tip: use as a holder for your cutlery or flowers on the dining table.
Was this article helpful?