21st March 2020:
Fair for You Competition Topic
Fair for You is happy to announce that we have added a brand new sofa to our collection. Our aim has always been to bring to you beautiful and functional products on finance and we are very proud of our newest addition!
These gorgeous sofas are made in the UK and are exclusively available to Fair for You customers. This set of beautifully crafted sofas will be available in 2 styles – High Back and Scatter Back – in 2 colours and 3 sizes.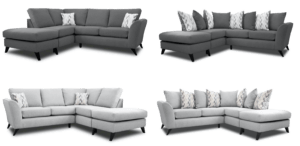 A cosy addition to any living room, these sofa sets (a 2+3 or a corner unit) can be purchased for £799 (retail price £1,200) once available on the website. To make them even easier on the pocket, you can choose to pay in weekly, fortnightly, or monthly instalments.
Fair for You Competition Topic
We wanted Fair for You community to name this range. The best name selected by Fair for You would win a set for themselves!
…And now the winner –
'Hope' suggested by Stacy Dee Griggs has been selected as the winner!
Want to take part in Fair for You weekly competitions?
Visit our Facebook page and tap on the "Follow" button to get a notification every time we have a new competition!
Click here to go to our Facebook page.
Our suppliers offer a wide range of quality sofas which you can pay for in flexible instalments. See other models available at Fair for You by clicking here.
Make sure you check out our sofa-beds for when you need to turn your living room into an extra bedroom, quickly.
We also have a wide range of quality beds and comfy mattresses, see the range here.
-Covid-19 Update –
Sofas are temporarily suspended for sale as we will be unable to deliver them to the room of your choice. This is for the safety of our customers and delivery staff
Therefore, there might be a delay in delivering the prize to the winner of the 'Name it, Win it' Competition.
We regret the inconvenience caused.
However, if you are interested in sofas please click here to sign up to receive a priority notification once they are available again.
Was this article helpful?